Health & Wellness
Our Wellness Story
Our Wellness Story
A place of Transformation. Our journey to Wellness.
Nestled amongst more than 6,500 square kilometers of protected pine forest, Lake Louise is one of the earth's great wild places that triggers awakening experiences. Journey to one of the most spectacular and unique locations on the planet and experience nature's calming and mind-quietening effects that encourage healing and transformation. Reignite your passion and zest for life in an inspiring natural environment that promotes well-being, relaxation and positive shifts in our being.
Fairmont Chateau Lake Louise is situated on the shores of a glacial lake in the heart of Banff National Park, in a UNESCO World Heritage Site. A majestic glacier and dramatic, jagged peaks loom over the lake, protecting its unique and sacred energy. Lake Louise is believed to be located on a site of a concentrated energy deposit, known as an "energy vortex." Ancient people believed that wherever the earth's energy gathered into a vortex was a sacred place.
Lake Louise is the ancient home of the Stoney Nakota First Nations people that believe our approach to the natural world should be one of respect, gratitude and stewardship. We have embodied these values from our inception and continue to uphold them today.
"The clearest way into the universe is through a forest wilderness"

John Muir
Adventure That Builds Strength & Character.
A year-round mecca for the outdoor adventure seeker, Lake Louise is a place that encourages pushing your personal limits to unlock your true potential.
Step into our wild adventure playground and experience the emotional and sensory voyage that the Swiss Mountain Guides experienced more than a century ago. Renowned as the birthplace of Canadian mountaineering, thousands of visitors and locals were taught to climb and later ski by generations of Swiss mountaineers between 1899 and 1954. ​
Channel your inner explorer in summer and discover our extensive trail network accessible from the doorstep of our resort. Embrace the peace and tranquility of this wild place from our turquoise waters or from one of our rugged trails on horseback. In winter, step into our real life snow globe and cherish the sacred silence from our cross country ski trails, skating rink or snowshoes.
The adventure seeker will embrace fear and challenge in the name of personal growth. While immersed in Mother Nature's finest work, you will accept challenges in order to feel the exhilaration of victory. Journeying into nature will often reveal to yourself that you are braver than you believe and stronger than you seem. Be prepared to release any feelings of fear and self-doubt.
Architecture That Enhances A Connection To Nature.
Although Fairmont Chateau Lake Louise has gone though many renovations since it first began as a log cabin in 1890, the architecture was always designed in a way that enhanced a guests' exposure to nature. Numerous panoramic views from the resort remind guests of nature's presence; her power and her fragility, her hostility and her warmth. The big arched window of the Lakeview Lounge frames the lake perfectly and lake view guest rooms seek to blur the line between inside and outside.
The ladies on the chandelier represent the wives of the Swiss Mountain Guides, who put candles in their windows so that a guide (namely their husbands) caught out at night, could find their way home. The four woman point north, south, east and west. The women represented on the chandelier are the women that opened the Plain of Six Glaciers Teahouse, nestled at the back of the lake, by Victoria Glacier.
Enrich Your Experience With Luxury.
Take care of yourself while you're being well taken care of. Enter into our wellness sanctuary with a clear conscience, feeling secure and at ease, knowing that you will be well looked after. Enjoy the creature comforts of home at our luxurious mountain resort. Wellness retreats at Fairmont Chateau Lake Louise allow for a stress-free experience for participants.
Revel in luxurious guest rooms and amenities that are fit for a king (literally – Dozens of royals have stayed at Fairmont Chateau Lake Louise, from King Edward VII of Wales, Prince Rainier of Monaco, Queen Elizabeth II and Prince Phillip and Queen Margrethe of Denmark).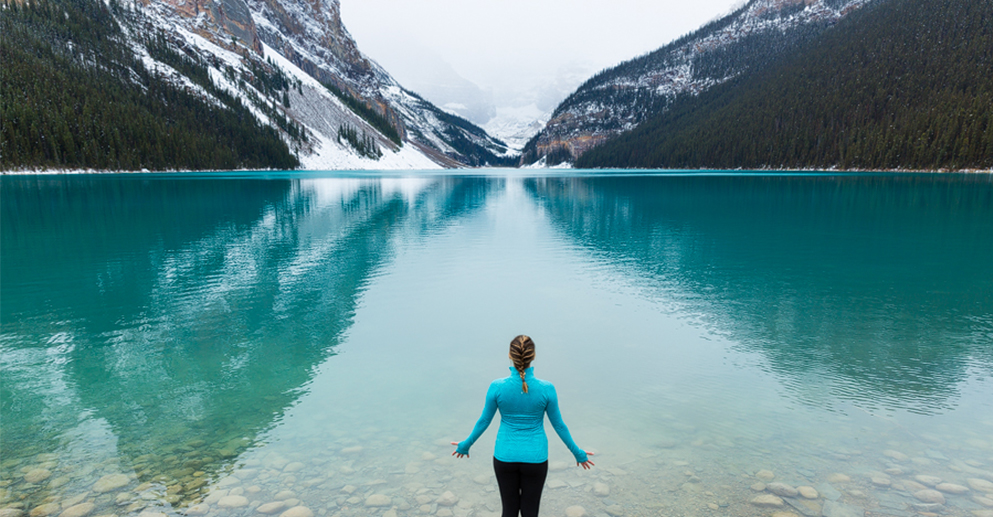 Wellness Retreats
Our wellness retreats are held year round, we believe guests can experience a heightened level of personal transformation simultaneously with the natural world.
Renew yourself in spring. The crisp mornings and fresh mountain air of spring breathe upon us the spirit of hope and promise. A time of renewal and rebirth, visiting Lake Louise in spring reminds us that change requires us to be gentle and patient with ourselves.
Summer in Lake Louise is the ultimate in mountain exploration. With ample free-time built into the programs, you can enjoy everything our backyard has to offer while you focus on your wellness.
Fall in love with yourself and life in fall. While Mother Nature transforms our dramatic mountainside slopes to gold in fall, we are reminded of the impermanence of life and how vital it is to embrace the present moment. At this time, we are reminded that our bodies, minds and surroundings are always developing. Savoring the present moment is not a choice but a necessity. While animals prepare for the winter by storing food and creating cozy hibernation spaces, fall offers us the chance to reconnect with ourselves as we preserve our safe havens.