Planning Tips
The Ultimate Guide to Visiting Lake Louise with Kids
Vacation is some of the most wonderful time you can spend together as a family. It's when you can connect deeply and make memories you will treasure forever.  It's also well known that travelling with kids is not always the easiest. Well, lucky for you, we're family specialists here at Fairmont Chateau Lake Louise. We've been helping families have unbelievable getaways since 1890 and have the intel you need to plan yours! Read on for tips and tricks to having a seamless getaway to iconic Lake Louise.
Your Home Away From Home
When travelling with kids it can be daunting to be away from the comforts of home. Rest easy, because Chateau Lake Louise has everything you need to help you kids settle in right away. When you arrive your room will be equipped with a crib for little ones, complete with tiny robes to give them the pampered vacation feeling.
For the ultimate ease and convenience we highly recommend Fairmont Gold when travelling with kids. Not only are the rooms unbelievably plush, but the added amenities in this "hotel within a hotel" are so good you may never book a standard room again.
Separate Check-in & Concierge Desk
Check-in is a breeze with a dedicated team for you in the Fairmont Gold Lounge. They are also a wealth of knowledge and excellent resource when planning and booking activities.
Fairmont Gold Lounge Exclusive Access
Think of the Gold Lounge as your living room during your stay. Enjoy daily complimentary breakfast with a wide range of options and even an omelette station, perfect for picky eaters and early risers. During the day there is nibbles and pastries available when hunger strikes and in the evening you will love the selection of canapés to enjoy with your bevvies from the extensive honour bar.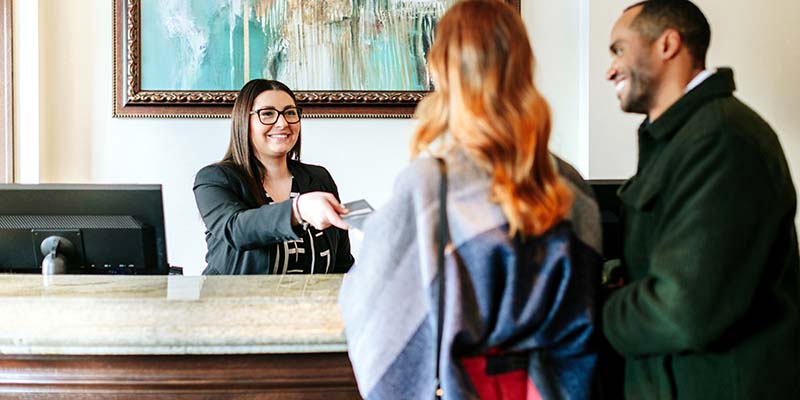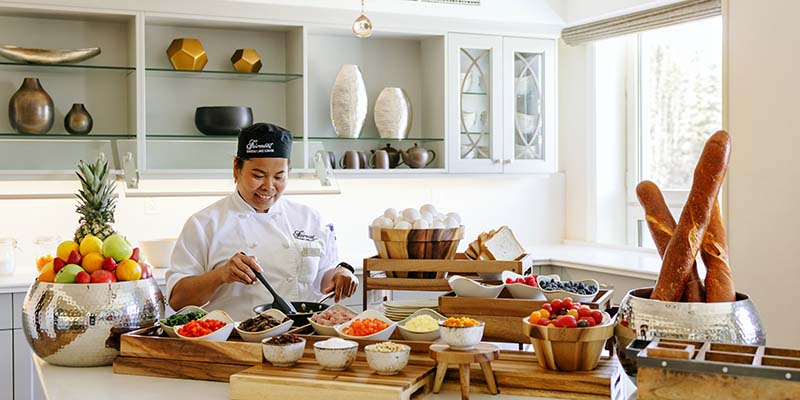 Kid Friendly Dining
Anyone who has ever been around a hangry toddler knows that keeping the little ones fueled up for adventure is one of the best things you can do for a smooth and happy getaway. From breakfast, lunch and dinner to all the snacks in between, we have options for even the pickiest petite palate.
Breakfast
The most important meal of the day, but also often the most difficult to get everyone coordinated, your choice of breakfast locale will greatly depend on your plans.
In Room Dining – Sometimes it's easiest to simply have breakfast come to you. Our In-Room Dining menu has a dedicated kids' menu with all of the classics like eggs, toast pancakes granola and yoghurt.
The Guide's Pantry – If your adventures are starting early, a breakfast to go from the Guide's Pantry is perfect to enjoy en-route.
Louiza – Fuel up, with stunning mountain views. It's the perfect start to add energy to your day of exploring. Your kids will love the breakfast menu selections featuring pancakes, French toast, eggs and yoghurt.
Lunch
A mid-day fuel up is key for an afternoon of adventure. If you are at the hotel for lunch a pick up a grab-and-go lunch from the Guide's Pantry is fantastic for a hearty lunch. The iconic Lakeview Lounge should also be on every visitors dining to-do list. They have a kids' menu so you can enjoy this world renowned experience together.
Dinner
Enjoy family dinner elevated with a range of dinner dining options. They all have kid's menus so you can rest easy that the little ones will finish their day full and fueled.
Walliser Stube – Warm cozy and inviting. The European Alpine cuisine is a family favourite.
Louiza – The relaxed setting of Louiza is prefect for family dining. With kids menu classics like spaghetti or pizza, it's a kids favourite at the hotel.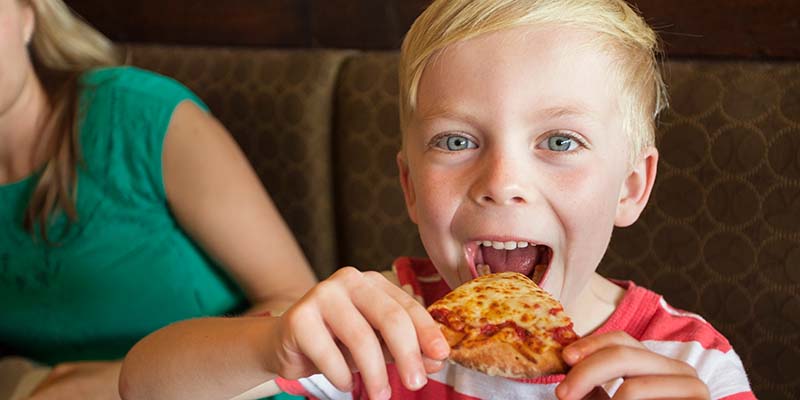 The Outdoor Playground
Kids love outdoor adventures, and there is plenty to keep them busy (and tired) while staying with us.
Skiing & Snowboarding – Lake Louise Ski resort is just a short 15 minute drive from the hotel. For ease and convenience we have rentals on site and a shuttle to take you right to the slopes.
PRO PARENT TIP
Enroll your kids in Lake Louise's Kids Lesson Programs. They will love exploring with new friends and you can enjoy a kid free day on the slopes!
Snowshoeing – See the sights with a wander on our backyard trails. Not sure where to go? Join one of our accredited Mountain Adventure Guides and they will show you the way.
Cross-Country Skiing – Glide and slide through our endless local trail network.
Johnston Canyon Ice Walk – A must-see in Banff national Park. Explore this wonder of nature with deep canyon paths, incredible ice and swirling pools.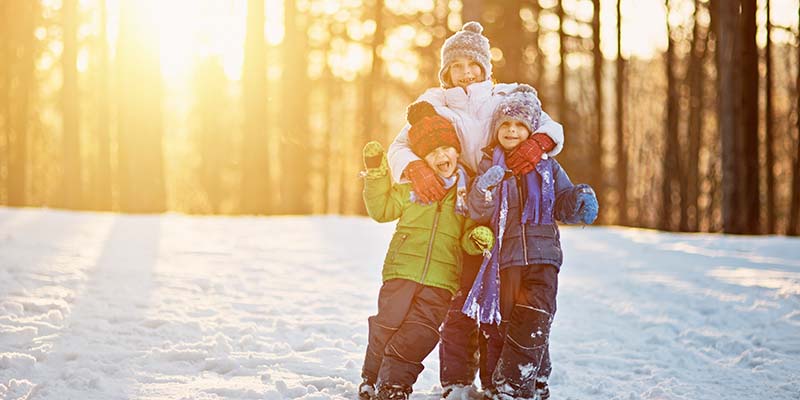 Indoor Entertainment
Not to be outdone by the wondrous outdoor adventures, there is plenty for your kids to do inside the hotel.
Swimming – Our indoor pool is the perfect spot to perfect your backstroke, and soak your ski legs. We have lifejackets on site for little dippers.
Scavenger Hunt – Explore the nooks and crannies of the hotel with a self-guided scavenger hunt, a great way to entertain the whole family for an hour or two.
Get Social – Gather and revel in Alpine Social. With lively music, your favourite game on the big screens, cold drinks and tasty bites, it's the perfect place to connect with the whole family.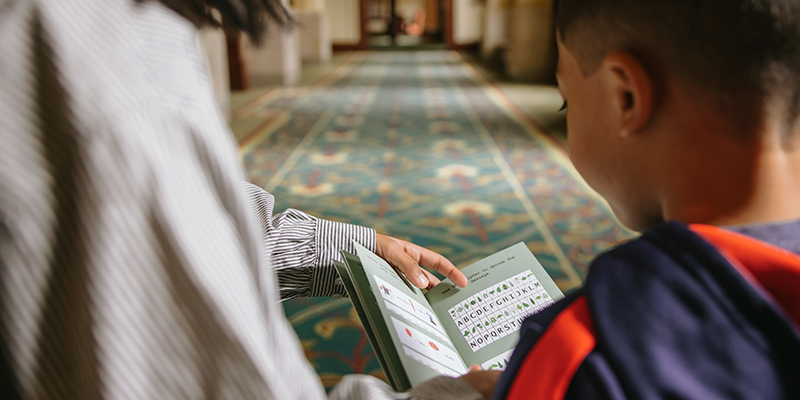 For the Parents
Vacation is also an important time for you and your partner to relax and reconnect. Fairmont Chateau Lake Louise is pleased to offer a variety of options to entertain the kids whilst you enjoy some time out. Sign the kids up for our Kids Camp or have our team assist with booking a babysitter for you. Here are a few ideas for just the two of you away from the kids.
Spa Time – Indulge in a massage or treatment in our onsite Spa. A couple's massage is a local favourite!
Yoga – Join a complimentary yoga class to rest and recover together. Reservations are highly recommended.
Dinner & Drinks – While your kids are being entertained at kids camp, or childcare you can slip away for a romantic dinner together, and you can cheers to another successful family vacation!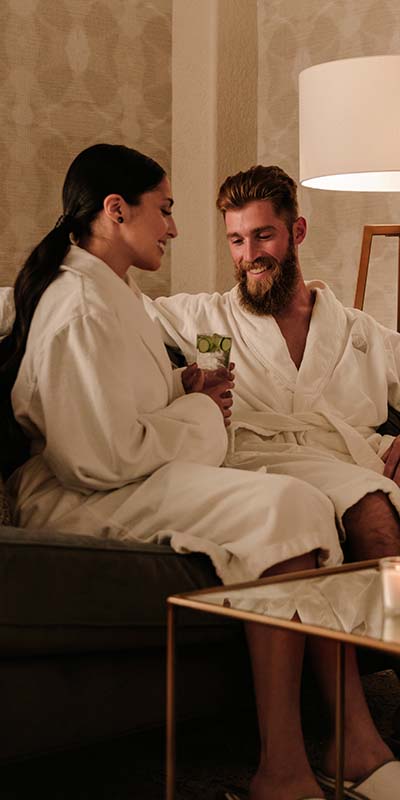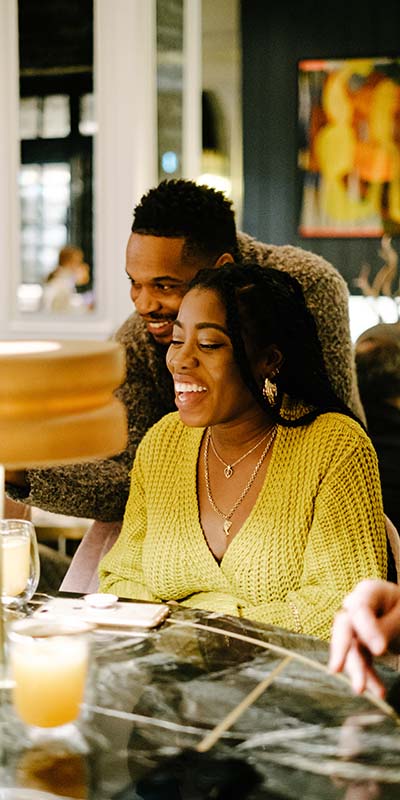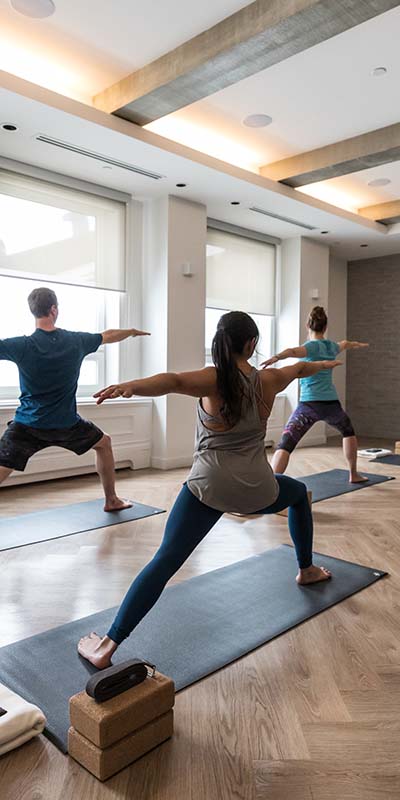 ---
Book your stay at Fairmont Chateau Lake Louise Now
Find the best deals to visit us at the best time of the year!