Wine & Dine
Summer English Pea Soup
With Oat Milk Foam, Herb Crumbs and Fresh Mint
We've asked our Executive Chef – Nicholas Issel to come to the table (pun intended) with some of his best summer recipes!
Below you will find his soup-er recipe for a Summer English Pea soup.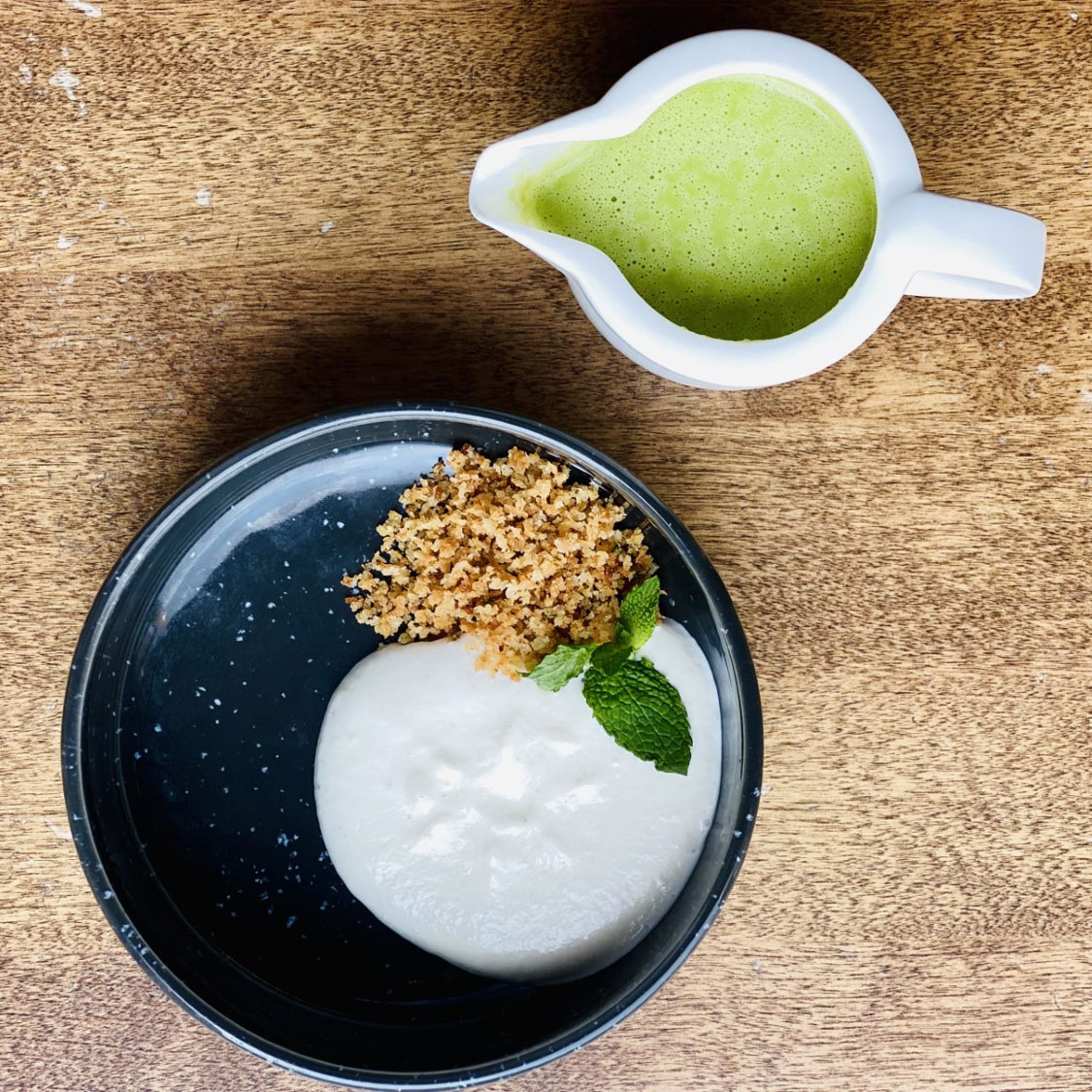 Recipe
Ingredients – Soup Base
2g Jalapeño
40g Fennel
70g White Onion
30g Leek
2g Garlic
50g Olive Oil
1g Salt
30ml White Wine
200ml Water
500g Peas
Ingredients – Oat Milk Foam
100ml Oat Milk
1 Sprinkle Nutmeg
Ingredients – Rosemary Crumb
80g Panko
10g Olive Oil
1g Chopped Rosemary
Preparation
Dice all of the vegetables into small cubes of similar size. In a large stock pot sauté the jalapeno, fennel, white onion, leek and garlic in the olive oil until they become translucent. Deglaze the pot with the white wine and cook for 10 minutes. Add in the water and salt and simmer. Pour the soup base mixture over the peas and blitz with a vita prep, continue blitzing until very smooth. As soon as they soup has been blended cool it down using an ice bath, this will help the soup to keep it's colour.
Next, heat the oat milk in a saucepan until it begins to simmer, sprinkle in your nutmeg.
For the rosemary crumb, heat the olive oil in a frying pan and add the panko. Continuously stir until golden brown and add the chopped rosemary and season with salt to taste. Place out on a paper towel to absorb the oil.
Plating
Find your favorite bowl place a tablespoon of the rosemary crumb and a puddle of the oat milk foam. Pour in your English pea soup and decorate with a sprig of fresh mint. Enjoy!
Looking for more inspiration?
Check out these recipes from our talented team!