Insider Tips
Canoeing on Lake Louise
What to know before you paddle on Banff National Park's most famous glacier-fed lake.
So you've seen photos of bright red canoes on a glistening emerald lake surrounded by soaring mountain peaks and wondered, "where is that?" Maybe you're dreaming of your next trip to the Canadian Rockies and canoeing on Lake Louise is already at the top of your list.
Whatever the case, we've broken down everything you need to know before you paddle in our beautiful backyard.
You Can Go Alone Or With A Guide
Experienced paddlers may be inclined to hop in a canoe and explore the lake on their own. There's something special about heading out to the middle of Lake Louise and having a moment to take it all in by yourself.
New paddlers or guests looking for a unique way to learn about Lake Louise can opt for a Guided Voyageur Canoe Experience. One of our Mountain Adventure Guides will take your group around the lake in an authentic, 26-foot cedar strip Voyageur Canoe while you learn about the wildlife, the indigenous people and the early explorers of Lake Louise from your guide.
There's So Much To Explore
Paddling Lake Louise is no quick and easy feat! The lake is 2.2 km (1.3 miles) long and 0.5 km (0.3 miles) wide and it takes about 30 minutes for experienced paddlers to get to the far end. Heading to the back of the lake is worth it to get some incredible views of the hotel and glacier that can only be seen in a canoe!
Don't Forget Your Camera
This one is pretty obvious but it's an absolute MUST! Lake Louise is even more 'grammable' when you're on it. You'll want to brag to all of your friends after your trip, so snap as many pictures as you can!
*Life jackets are mandatory and must remain on at all times, including during photos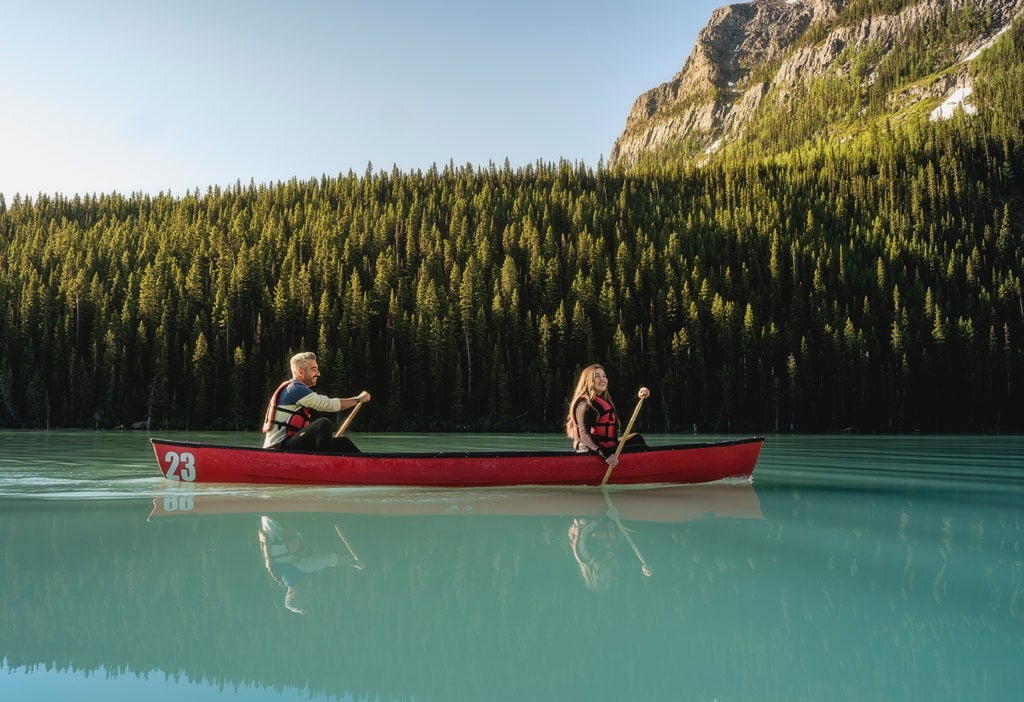 Take A Mindful Moment
Once you've taken your photos, put your camera or phone away and take a moment to appreciate the beauty of Lake Louise. Close your eyes, take a few deep breaths of fresh, mountain air and take it all in. If you want some guidance, check out our Mindful Canoeing video.
Our Best-Kept Secret: September Paddling
Summer can be busy in Lake Louise, that's not news! September offers summer weather without the crowds. If you want to paddle and feel like you have the lake all to yourself, fall in Lake Louise is for you!