Planning Tips
3 Days in Lake Louise Spring Itinerary
Spring in the Rockies is an untold secret, or at least, that is what it feels like. It is a time when Mother Nature starts to wake up after a rejuvenating winter, the snow melts away, hibernating animals come out of their winter slumber. And of course, fewer visitors means you often have the shores of Lake Louise all to yourself! It's the perfect time to refresh and reset before the exciting summer months ahead. We are here to give you our ideal 3-day itinerary to spend in Lake Louise this spring, read on for more.
Arrival Day:
Upon arrival in Lake Louise, drop your bags and get outside to give your legs a stretch, your body and mind will thank you for it! Strolling along the Lakeshore Trail, you will take in the magnitude of the surrounding snow topped mountains and picturesque vistas. After freshening up, we recommend you start your evening with a handcrafted cocktail at Fairview Bar & Restaurant's art deco inspired bar before sampling some of Alberta's finest beef for a succulent dinner. Finish off your evening under the twinkle of starlight by the lakefront campfire.
Day 1:
Fuel your day of exploration with our energizing breakfast buffet in Louiza, and get ready to hike the Johnston Canyon Icefalls with one of our Mountain Adventure Guides. Here you can wander into the majestic canyon, listen to the swirling creek below, and marvel at the massive frozen waterfalls. Arrive back to the hotel in time for a longstanding Fairmont tradition: afternoon tea. Delight yourself in soft and fluffy scones accompanied by English-inspired sandwiches whilst sipping on a comforting cup of Lot 35 tea. Next, you have earned a little "me time" pampering. Head to the Fairmont Spa and let your massage therapist melt away any tension with our Hiker's Foot Therapy treatment, helping to restore the natural flow of energy in the body after your active morning! Finish your day with an intimate dinner at Walliser Stube. Have fun dunking into a bubbly pot of melted cheese or opt for the bone-in pork schnitzel, either way, you've earned the calories to fully embrace this homage to our Swiss guiding heritage.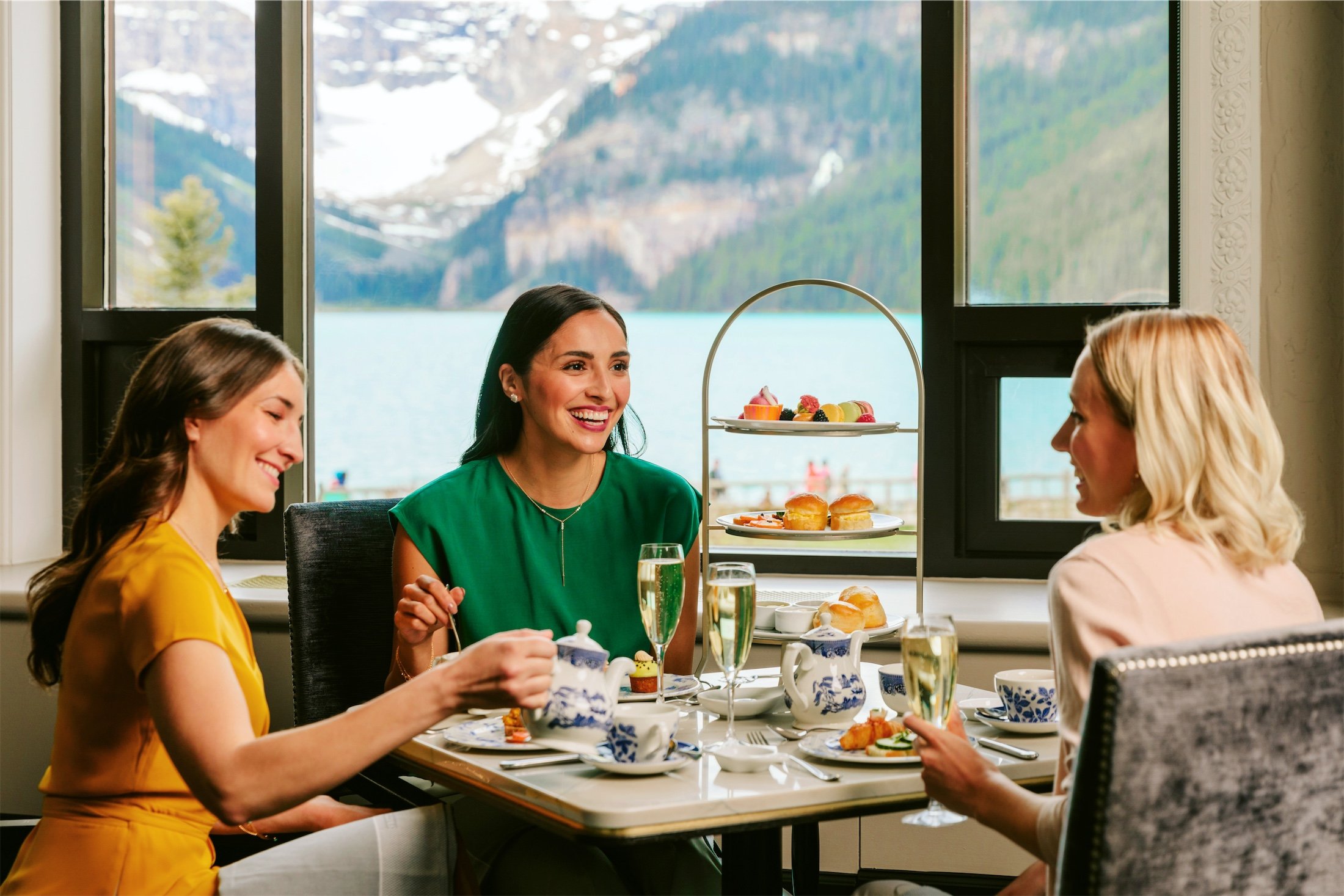 Day 2:
This morning, we recommend you start your second day off a little slower. Take breakfast in bed and savor your morning coffee whilst marveling at the view from your lakeside window. When you are ready, head to the Fitness Room and participate in a 45-minute gentle stretch class to awaken your body for your final full day in Lake Louise. Get your heart rate pumping with a short uphill hike to Fairview Lookout. If the trail conditions have you worrying about stable footing, we have you covered! Rent ice cleats from Chateau Ski and Snow and conquer the trail.  On your way up and once you hit the top, hone in on your photography skills as you look out over the lake, the Chateau, and the ski hill. An iconic Lake Louise viewpoint, and definitely not to be missed. Once back at the hotel, find a cozy nook in the Living Room and let your mind escape into the pages of a good book. Keep dinner a casual affair at Alpine Social; where you can recount your adventures so far!
Day 3:
For your final day in Lake Louise start by grabbing a delicious grab and go breakfast from The Guide's Pantry, and don't forget a few extra snacks to keep you fueled on your travels. Take one final walk-around the Lakeshore and say goodbye to Lake Louise before you set off to explore other corners of Banff National Park. Stop off in the town of Banff and visit the historic Whyte Museum or get a birds-eye-view by taking the Banff Gondola up Sulphur Mountain. Finish this spring getaway on a high as you say your farewell to the Rockies.