Planning Tips
Your September Summer Bucket List
With an end to the summer months rapidly approaching and autumn feeling closer with each morning, the pressure to check off the last of your bucket list items may feel as though it's building with each passing day. Well, not to worry! September in Lake Louise offers the best of both seasons and with our ultimate destination checklist, you can make the most of every moment.
Canoe.
Canoeing on Lake Louise in September is our favourite activity; the summer crowds have thinned out, the colours of the trees are changing, and the world around you seems to slow down in Mother Nature's deep breath before the winter. The aqua-blue lake appears more striking than ever as it contrasts against the orange, reds, and yellows of the surrounding trees. In our opinion, there is no better time to head to the Boathouse to rent a canoe or book one of our guided Voyageur Canoe experiences and enjoy a moment of tranquility on the water.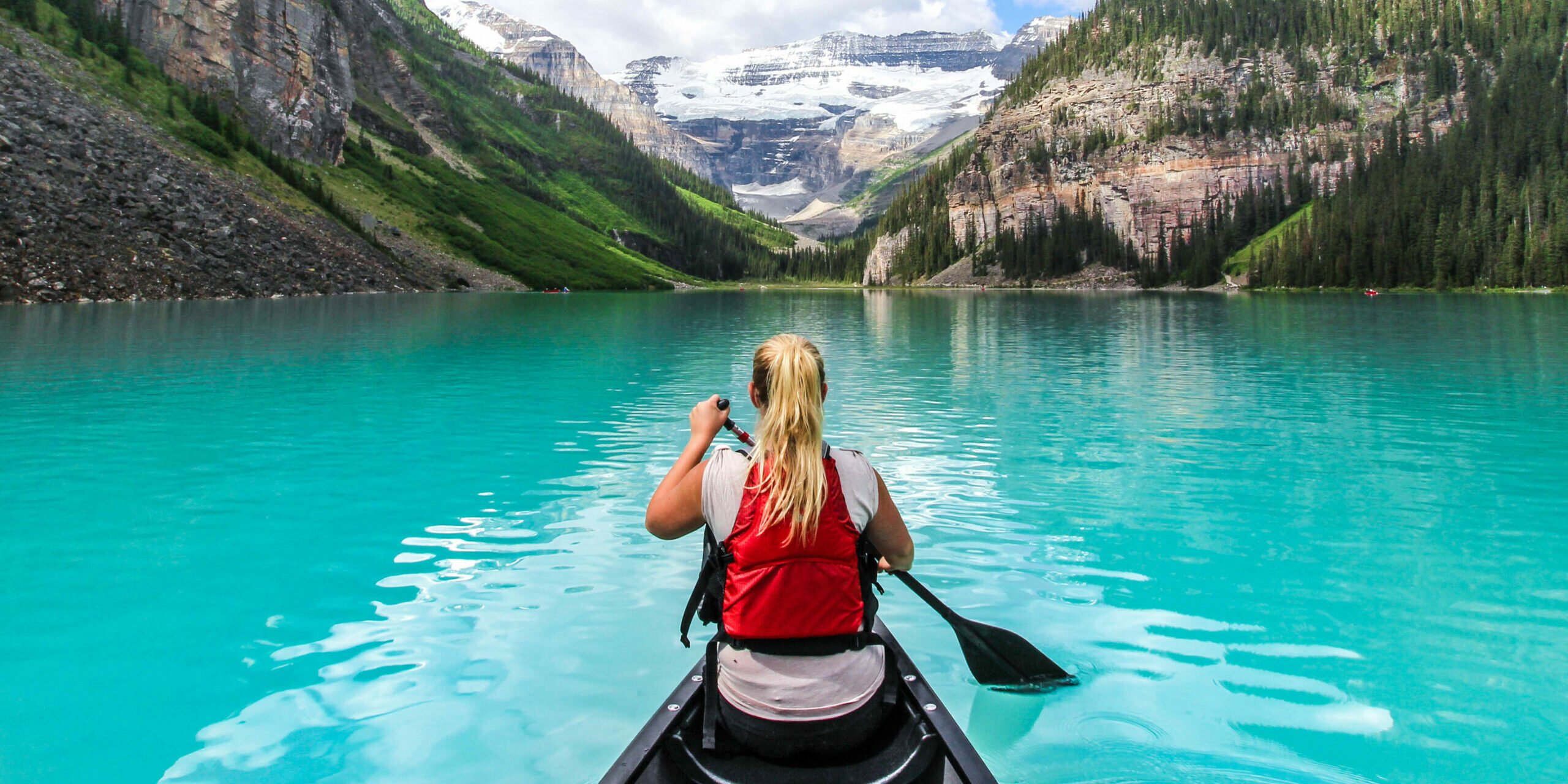 Hike.
Hiking in the Lake Louise area is nothing short of spectacular in the month of September. With a plethora of trails to choose from ranging from easy family-friendly strolls to the heart-pounding thrills of challenging mountain climbs. Mild weather and fewer crowds on the trails make for an ideal escape into the mountains. Allow yourself to take time on these hikes to admire the breathtaking views of surrounding mountain peaks and snow-capped glaciers.
Relax.
Not every activity in Lake Louise has to be filled with action-packed moments! We strongly recommend taking a moment to reconnect with yourself and find time to simply "be". Whether you find your peace in the Fairmont Spa indulging in a full-body relaxation massage or find a cozy nook in the Living Room where you can curl up with a hot tea by the fire, moments of relaxation are easy to capture and not to be missed.
Wildlife.
The fall season is when wildlife activity increases after the busy summer months as animals prepare for winter. Lake Louise is home to a variety of wildlife including grizzly bears, black bears, mountain goats, and marmots. For a chance to spot a 'wild local' head over to the Lake Louise Summer Gondola, it's one of the top local locations for wildlife spotting! Just remember to observe from a safe distance and never feed the animals.
Lake Hopping.
Staying in Lake Louise means you can visit more than one famous lake during your trip. With Moraine Lake just a short shuttle ride away via our hotel guest-exclusive shuttle, you can experience the stunning shores with ease. If you are looking for lakes lesser known but equally beautiful, we suggest Mirror Lake and Lake Agnes; with the trailhead starting right from our doors, taking you through the trees to alpine vistas, catch your breath and warm your hands at the legendary Tea House once you reach the top.
Overall, September in Lake Louise provides a perfect balance of pleasant weather, stunning landscapes, and fewer crowds, making it an ideal time to experience the beauty and tranquility of this magical destination. So pack your bags (don't forget a few extra layers!), keep an eye on the weather app, and charge your camera; the trick for an unforgettable adventure in the mountains during September is to be prepared.