Insider Tips
Wild Locals You Might Meet on Your Trip to Banff National Park
Lake Louise is special for so many reasons.
The colour – incomparable! The glaciers – jaw-dropping! But one thing really sets this little mountain hamlet apart – the wild locals you might encounter on your adventures around the lake.
Banff National Park is home to 53 species of mammals, according to Parks Canada. "The incredible diversity of wildlife is a reflection of the wide range of habitats found in the park due to variations in elevation, climate, and plant communities."
Lake Louise is no exception. On any given day, on any given mountain adventure, you're bound to bump into at least one of these local species. Each animal is unique, and while an encounter can be an exciting experience, it's very important to respect these animals by giving them space to roam without being disturbed. After all, you're in their backyard!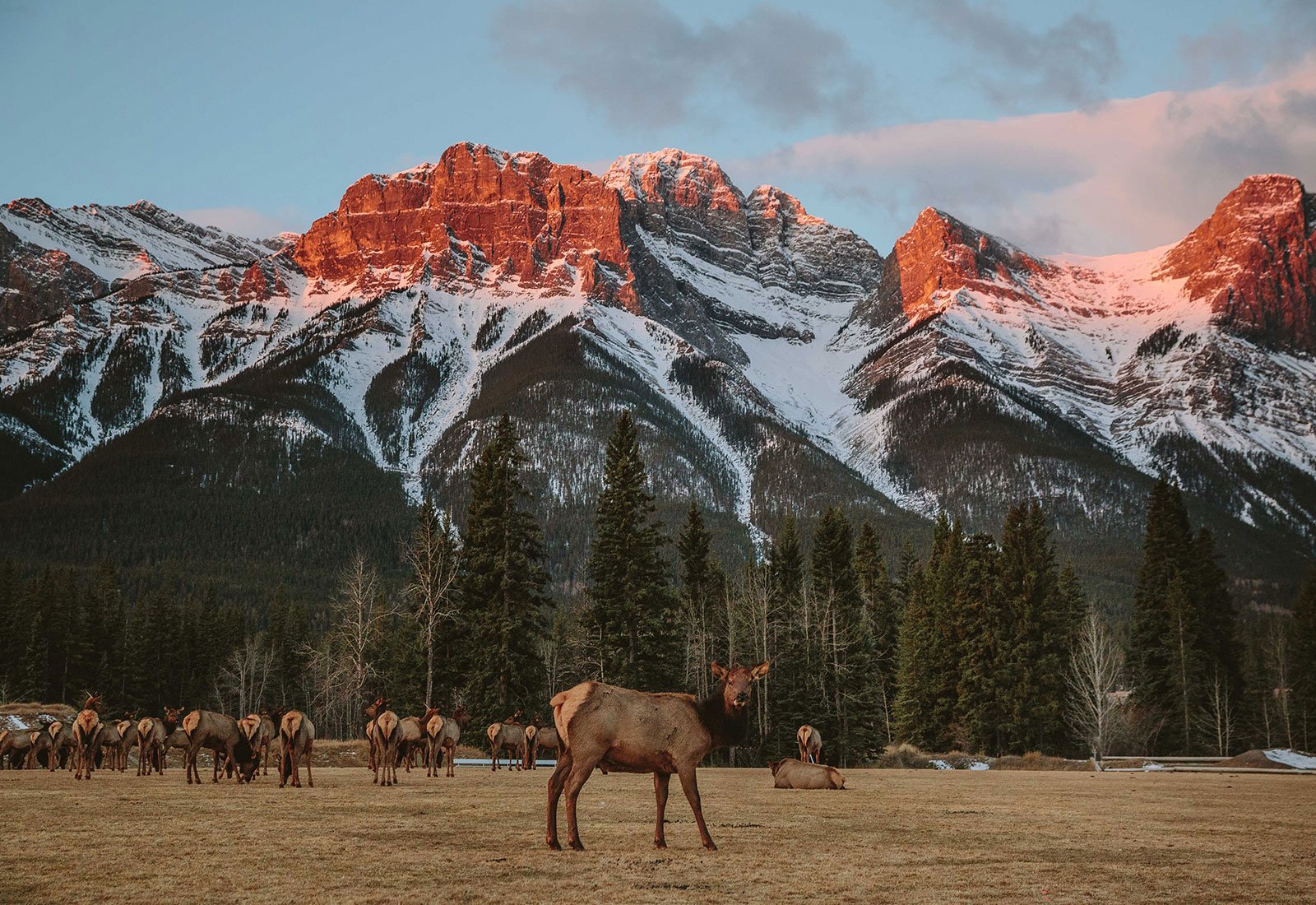 Pika
You are bound to see one of these cute critters on your Lake Louise adventure! Whether you're up at the Lake Agnes Tea House or on top of Mount Piran, you've got a good chance of spotting one of these tiny mountain dwellers.
"Although well-camouflaged, pikas can often be located by their piercing call that sounds like a high-pitched "eep". They are often seen on the rock slides at Moraine Lake and at the far end of Lake Louise." Source – Parks Canada
Hoary Marmot
If you hike up to the Plain of Six Glaciers in Lake Louise you just might spot a Hoary Marmot. These unique locals dwell in rock piles and scree slopes, so to see them you'll need to keep a keen eye out!
"Hoary Marmots are one of the largest rodents in the park, reaching weights of up to 30 pounds. Marmots can be seen on a number of day hikes in the park, including the Plain of Six Glaciers at Lake Louise and the Cascade Amphitheater trail near Banff." Source – Parks Canada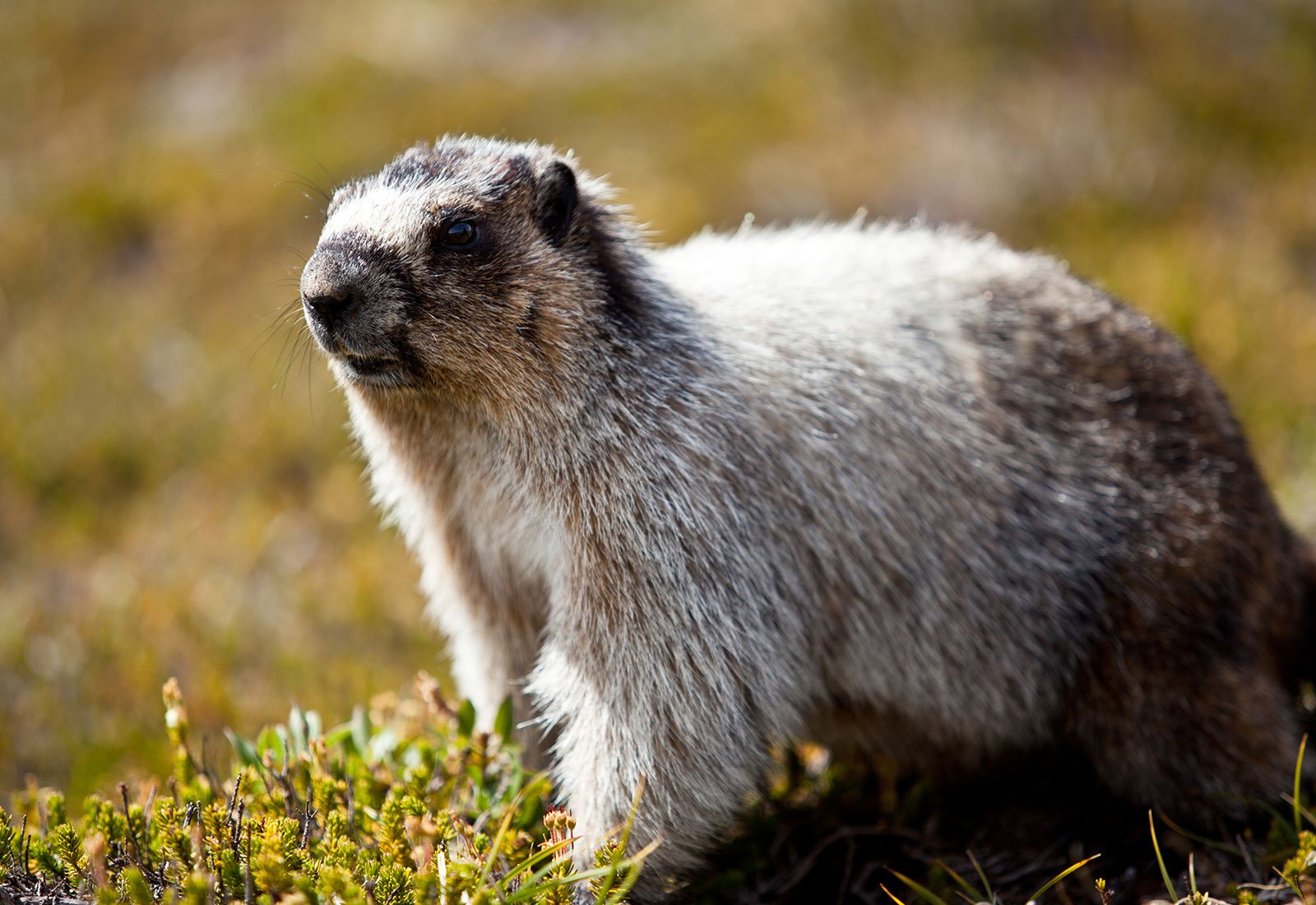 Wapiti (Elk)
Seeing an elk is an incredible experience. Elk are tan in colour with a white patch on their rear. Majestic and alluring, these creatures are commonly seen around the Banff town site. You might also spot an elk while driving the Bow Valley Parkway. While it's exciting to spot one, it is important to keep your distance from elk at all times.
"Elk are also the most dangerous animal in the park. In the spring, mother elk protect their newborn calves fiercely, warding off any and all creatures that come between them and their young by slashing with their hooves. Similarly, in the fall during the autumn rut, the bull elk become extremely aggressive towards people, using their large racks of antlers to display their dominance."  Source – Parks Canada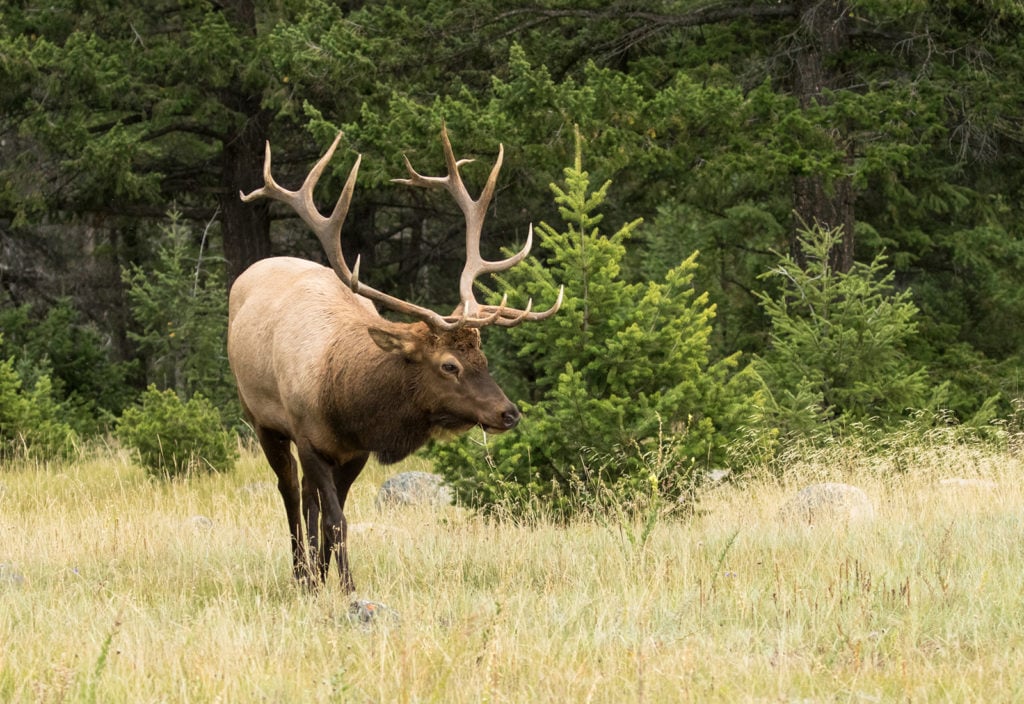 Moose
The moose is an elusive resident in Banff. Not every visitor has the experience of seeing a moose on their travels in our national park. But if you do see one, you can be sure you'll never forget it. Moose frequent wet and marshy areas. In and around Lake Louise, you're most likely to see them in the aptly named Moose Meadows on the Bow Valley Parkway. They've also been known to be spotted on Lake Louise Drive from time to time.
"Moose were formerly widely distributed in the park, but have disappeared from the Bow Valley in recent years. The best areas in the park to see moose are along the Icefields Parkway near Upper Waterfowl Lake and north of Saskatchewan Crossing." Source – Parks Canada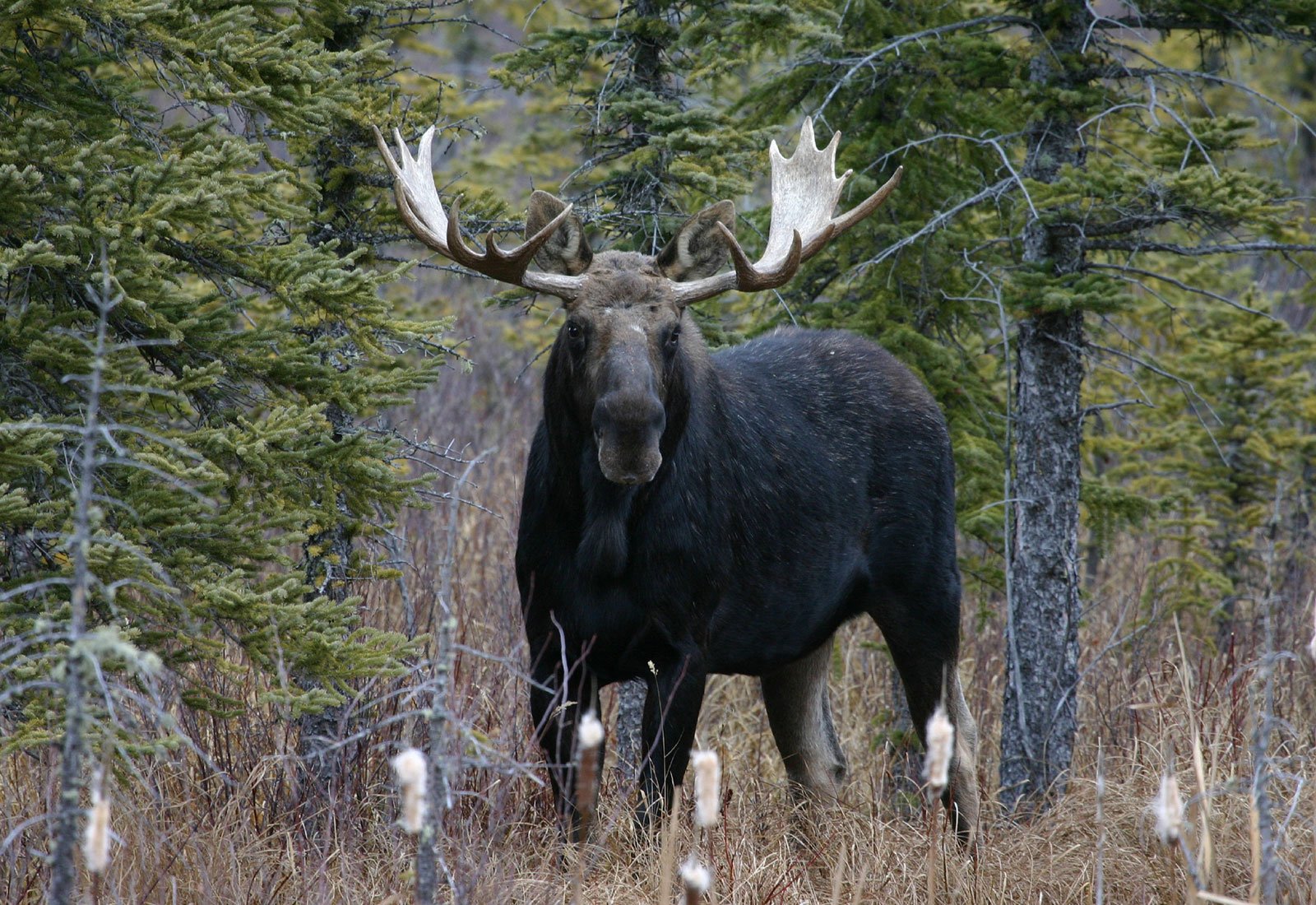 Mountain Goat
The mountain goat is one of Banff National Parks most interesting residents! While they have a preference for a more rugged habitat, there are many mountain goats in our national park. Keep an eye out for these bearded, four-legged creatures on your hike to the Plain of Six Glaciers Tea House. They're most likely to be found high up in the valley behind the tea house itself.
"Goats are often seen on the Plain of Six Glaciers hike and can sometimes be spotted on the slopes of Mt. Fairview beside Lake Louise." Source – Parks Canada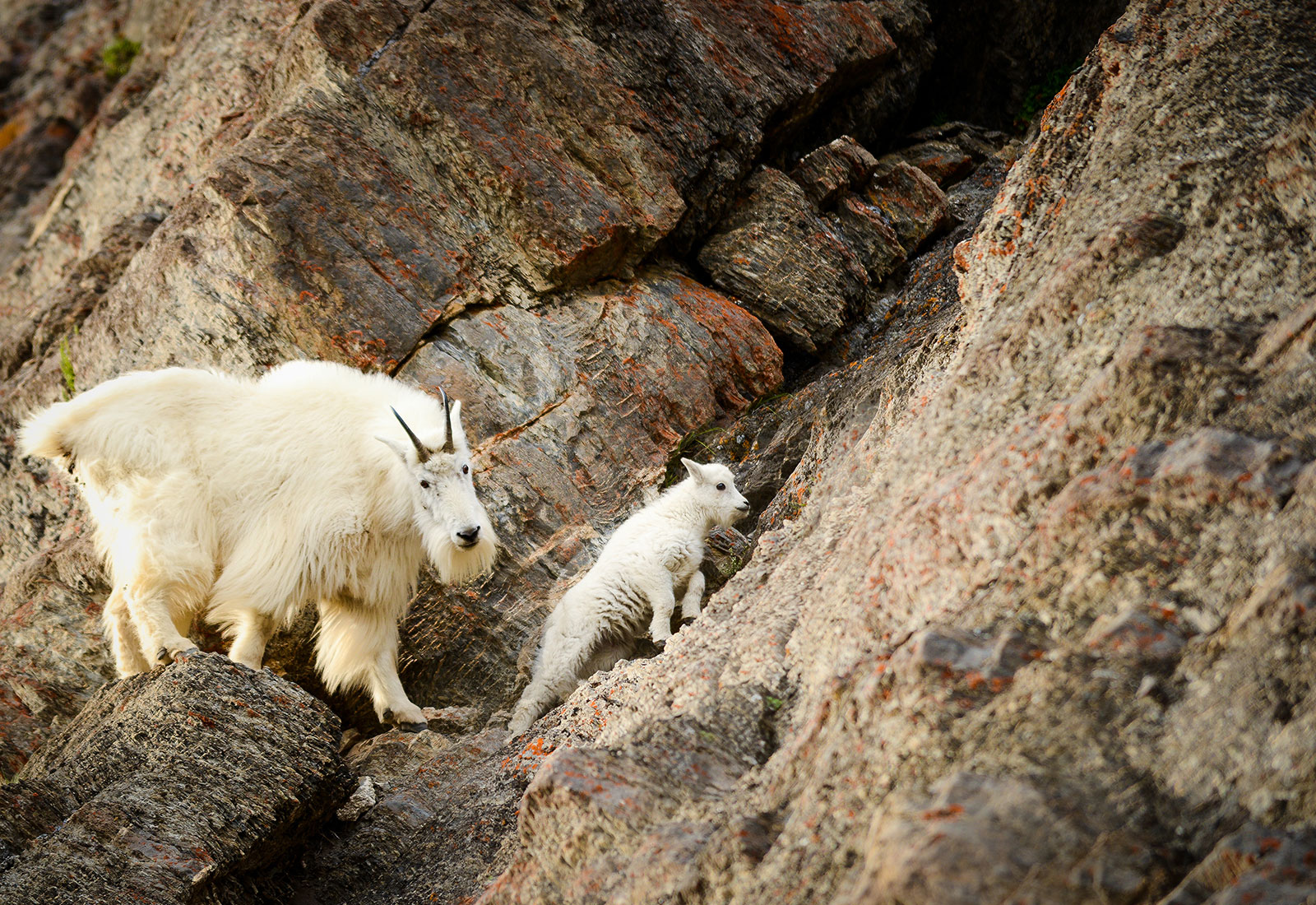 Bears
Black Bears
Bears are some of the most exciting creatures that you might come across on your visit to Lake Louise. Whether they are making their way up Moraine Lake Road or casually grazing on dandelions a bear sighting is like no other experience you've had before. Remember that we share this land with the bears and we want to let them be so they can continue to thrive in Banff National Park. Educate yourself on bear safety before your visit to Lake Louise so that you are well-prepared for a bear sighting!
"There are approximately 40 black bears that call all or part of Banff National Park home. They reside primarily in the Bow Valley and in the Saskatchewan Crossing area on the Icefields Parkway. Black bears in the park range in colour from all black to a light cinnamon brown. They are smaller in size than grizzly bears, and lack the hump of muscle on their shoulders." Source – Parks Canada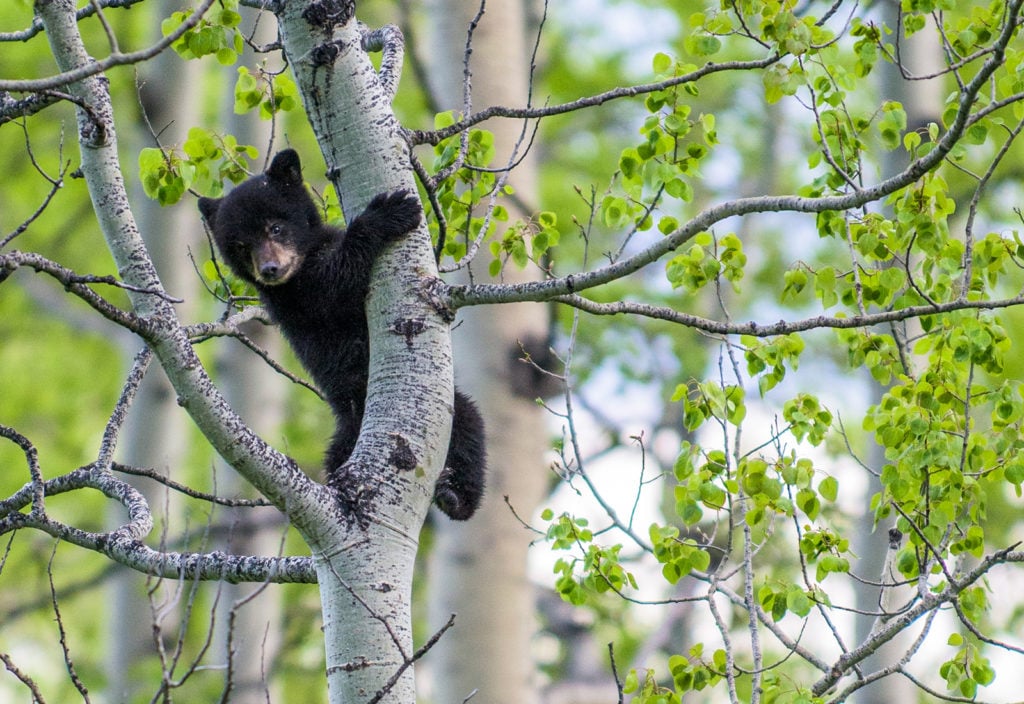 Grizzly Bears
"Grizzly bears are more plentiful than black bears in Banff National Park. Most of the back country wilderness in the park is subalpine forest, alpine tundra or rock and ice, and is thus more suited to grizzlies. However, visitors are more likely to see black bears because black bears frequent the low-lying valleys that our park roads run through."
"Visitors hoping to spot a grizzly can drive the Icefields Parkway and the Bow Valley Parkway, but extreme caution should be taken if a bear is encountered. Grizzly bears are unpredictable and have seriously injured tourists in the past — please stay in your vehicle and give the bear lots of space." Source – Parks Canada